Looking to get major social wall engagement during your event? Well, we're here to give you tips on how to achieve just that! Some of our recommendations may seem intuitive, but we want to cover all bases to assure you get the best experience out of using our Social Wall.
Here are our Dos & Don'ts when using Wallrus.
DO: Use a BIG Screen
DON'T: Use Tiny Screens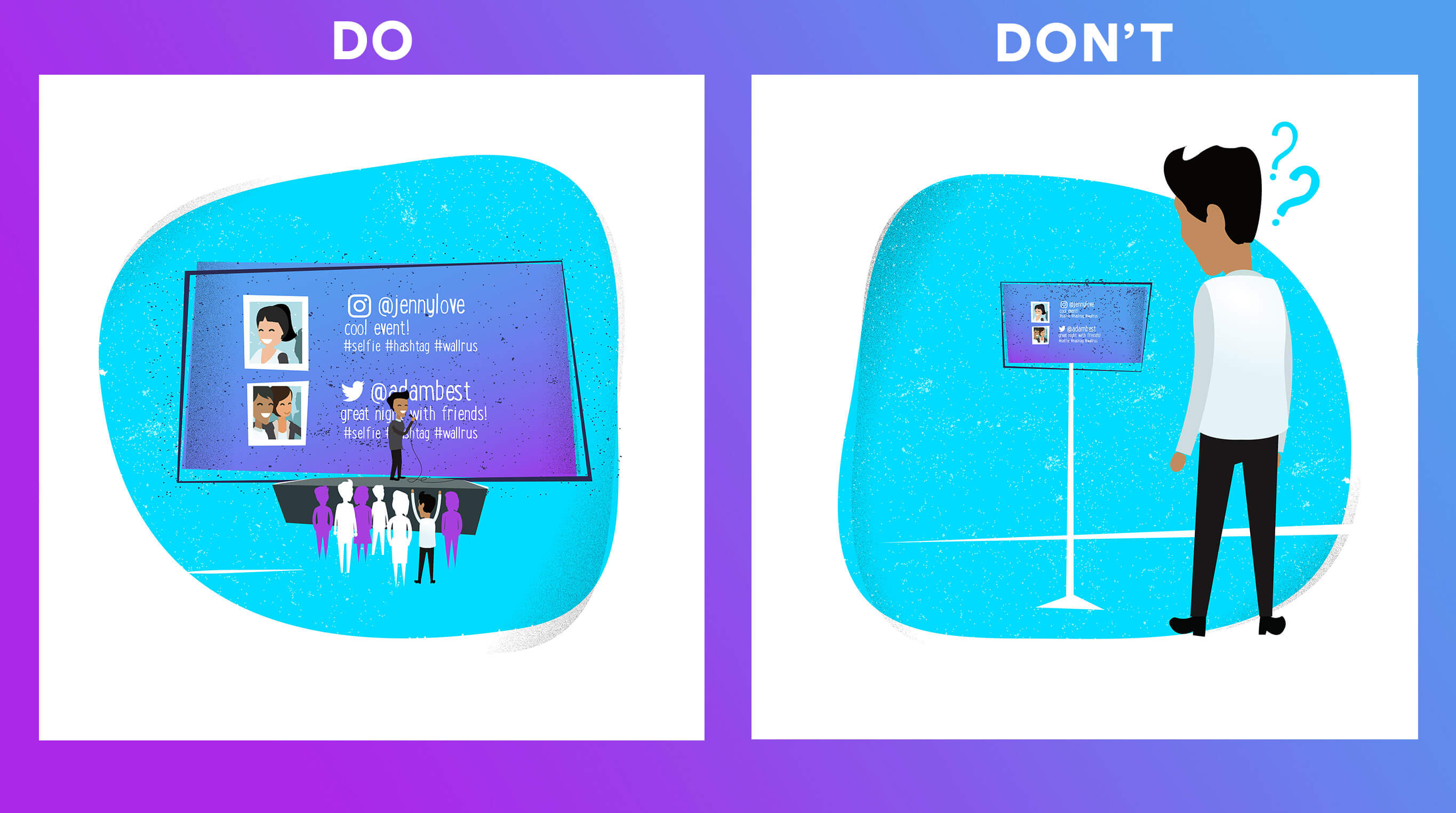 Whether your event is indoors or outdoors, if you want people to engage with your brand, they need to be able to see that they can! Big screens with their brightness adjusted to be as visible as can be at the venue is a step in the right direction. Even better, you can set up a projector with our Social Wall front and center! The bigger the display, the greater the attraction.
Using a small screen, or multiple small screens throughout the event won't have the same effect. Attendees won't be as attracted to the displays and therefore likely won't engage with them!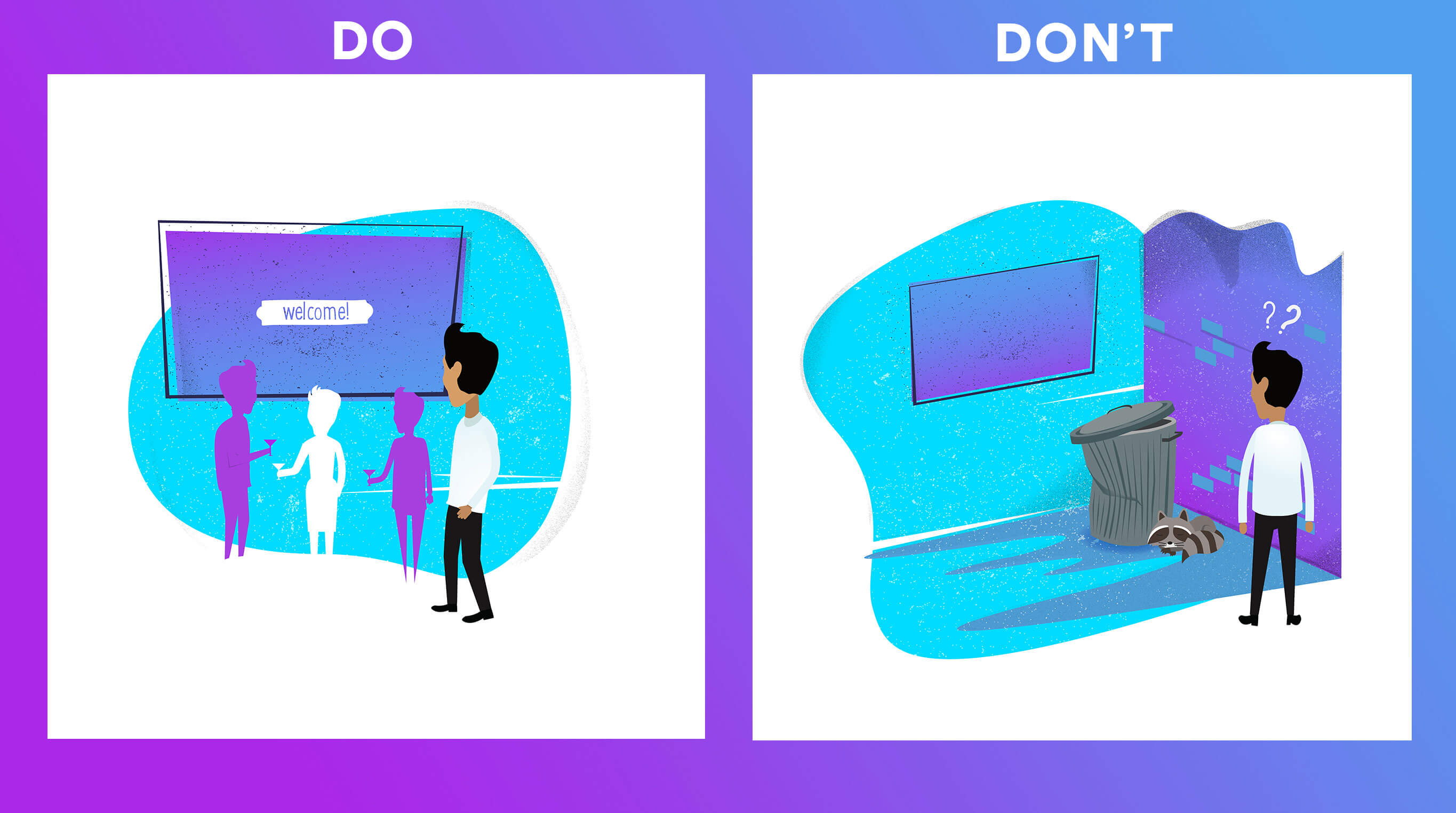 DO: Place Wallrus at a BUSY Location
DON'T: Place the Screen in a Closed/Secluded Space
Foot traffic is EVERYTHING. In order for your event to gain traction online, well, your screen has to be visible. You want people to be attracted to the wall. If need be, have signs pointing towards the wall. Making sure it's found in a busy area of your venue is most important! You want people to join the discussion.
If you choose to display the wall only in a secluded/VIP/lounge-type setting, it will give off a vibe that you want people to have a 1 on 1 conversation with your hashtag & event. Keeping the Social Wall visible allows everyone to jump into the conversation and build your community relationships!
Don't get us wrong, having the wall displayed in both kinds of locations is even better! Having it at both busy and lounge-type areas actually assures its visibility and interaction!
DO: Start the Conversation AHEAD OF TIME
DON'T: Wait Until the Last Minute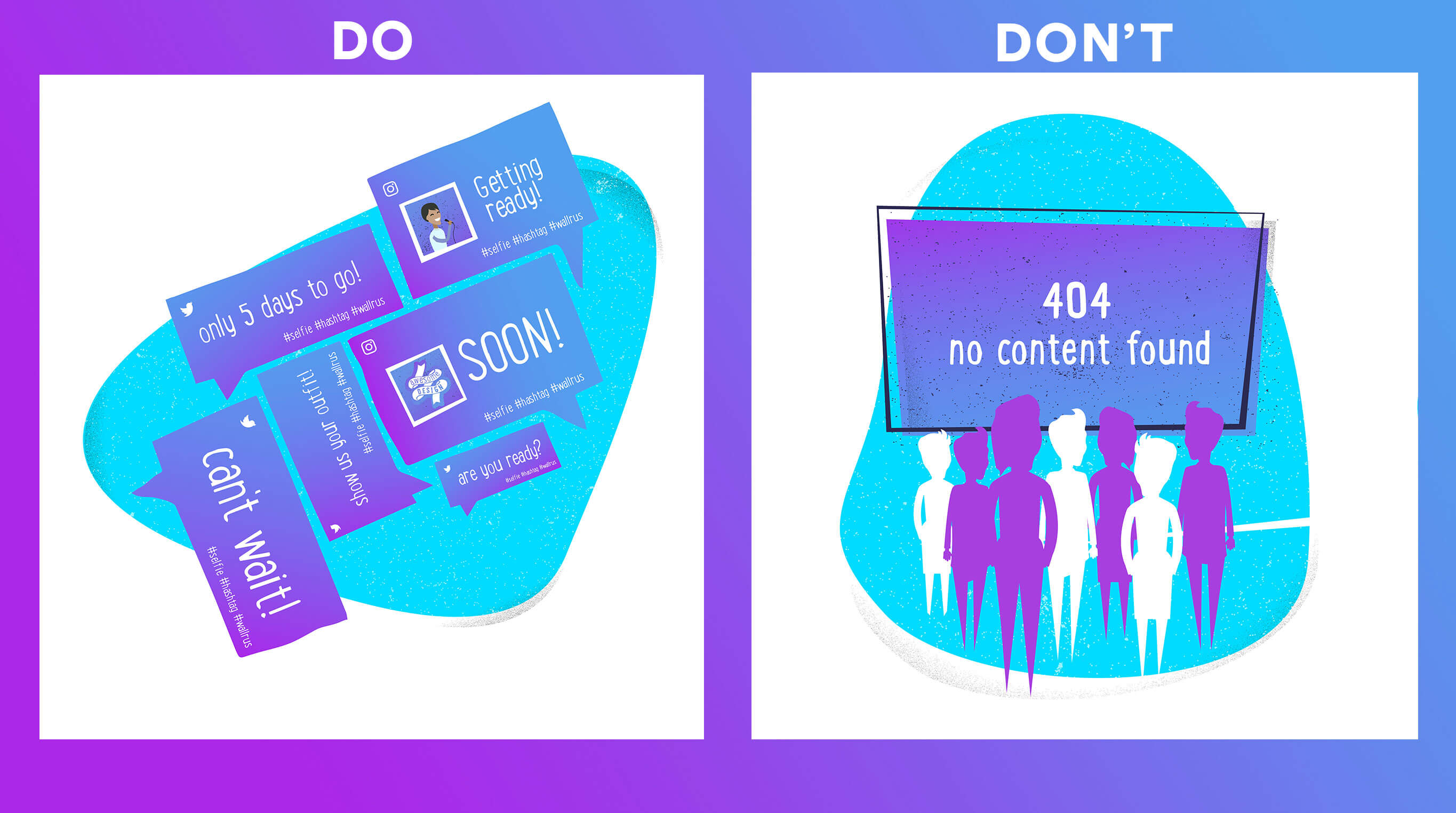 Make sure you've started the conversation around your event hashtag ahead of the big day! This will bring awareness to your event and get people tweeting/posting. Getting the ball rolling will also assure that you have some content to display as soon as your wall goes live.
Waiting until the date of the event to start posting tweets and Instagram posts with your hashtag is waiting too long. Your wall – that will have already gone live – will have little to no content. A 'boring'/inactive wall will definitely not entice people to join the conversation. So, start ahead of the event to assure there's appealing content to tempt attendees to get posting.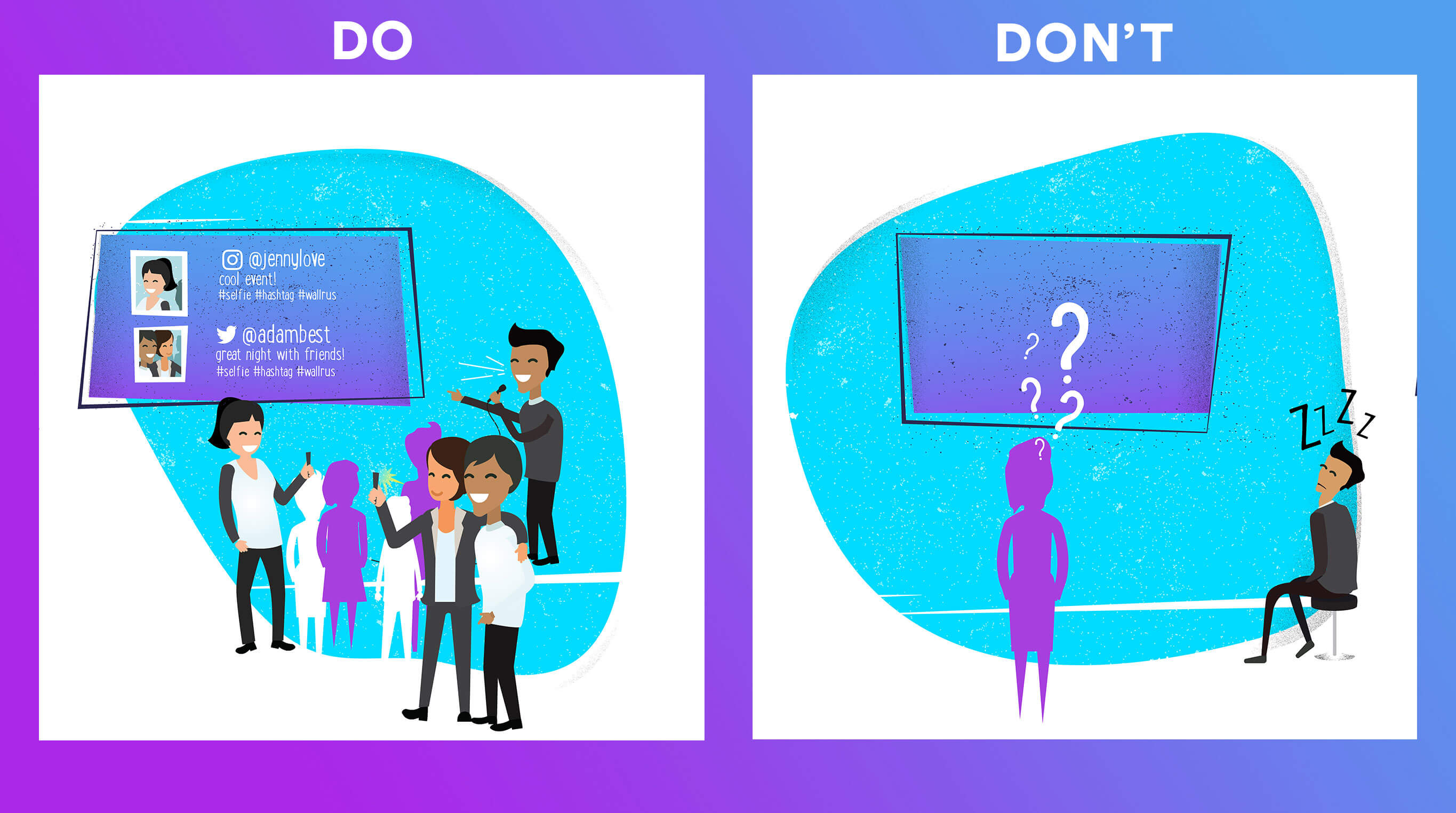 DO: Be INTERACTIVE
DON'T: Be Passive
Have someone animate the event or the wall. Get TALKING with others during the event. Making people comfortable to join the conversation will also make them feel comfortable in tweeting and posting on Instagram. Have the discussion revolve around your event and hashtag! Also, make sure those animating the event's wall moderate it as the event is live. This will allow the event and the wall to remain interactive.
Don't have your wall animators/hosts be on the sidelines passively moderating the wall when they feel like it. If you have someone asking for interactions and allowing the posts to be displayed on the wall, attendees will feel like they truly are part of the conversation.
DO: Integrate ATTRACTIVE Design
DON'T: Have a Simple/Boring Wall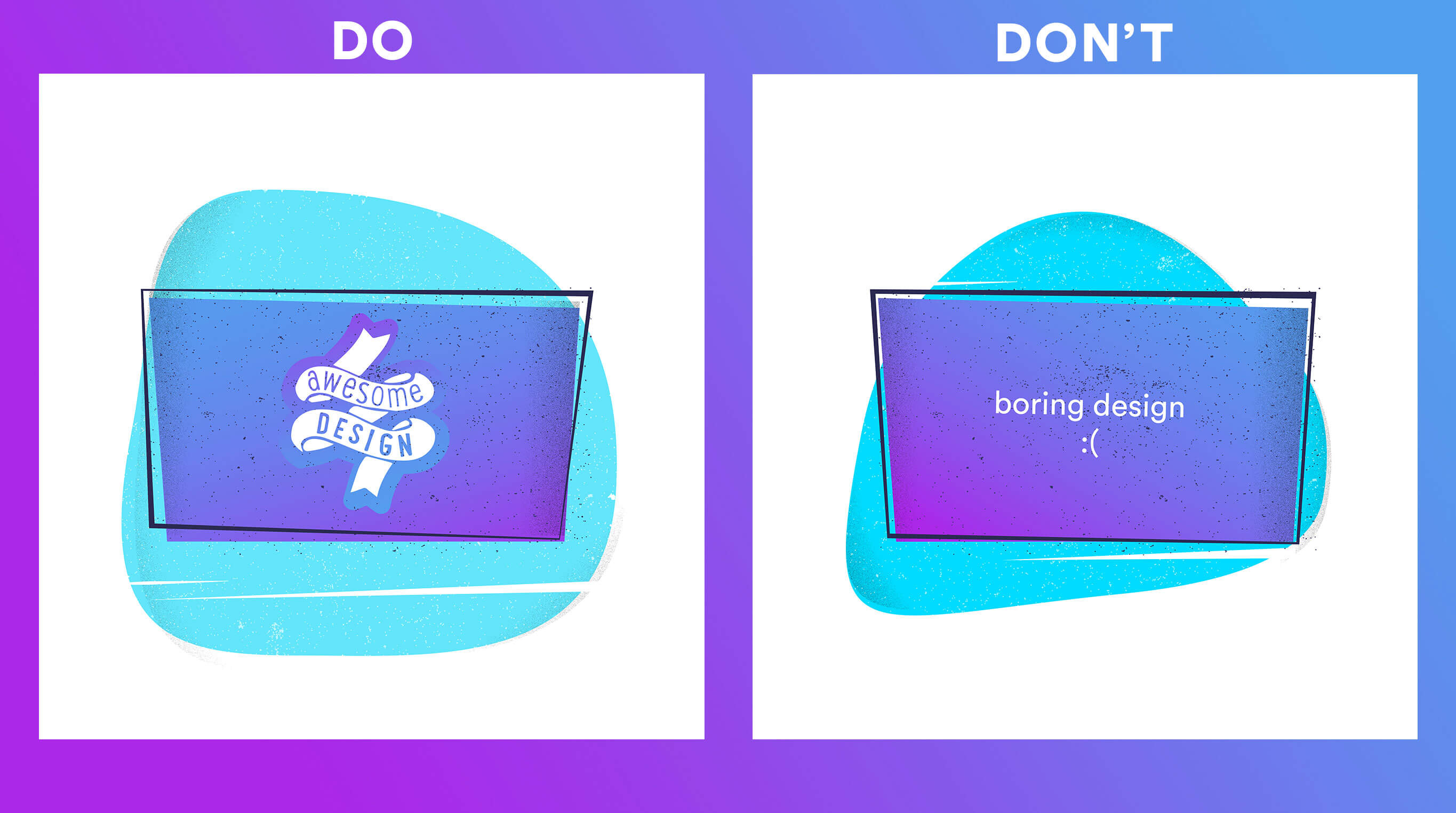 It goes without saying, the more visually attractive your wall is, the higher your chances of getting people to hop into the conversation. So, make sure it attracts the eye! Sometimes, just assuring that your screen is bright enough for the setting in which it is found can do the trick. You can also assure you have a vibrant background color for darker settings and a darker background for brightly lighted (or outdoor) settings. Design can greatly improve your Social Wall's Success!
Want to test out our wall? We've got different options to fulfill your needs. Click here to see what we've got!